The Walther WA-2000 sniper rifle had been developed by Carl Walther Waffenfabrik (Germany) during the late 1970s and early 1980s as a highly specialized police sniper rifle. First introduced in 1982, it was later adopted by some specialized police units in Germany, but rifle was too expensive to achieve widespread sales, and production was fairy limited. It is believed that only about 176 WA-2000 rifles were ever made. Unlike many other sniper rifles of that period, WA-2000 was not a conversion of the sporting or hunting rifle, but entirely new design with some remarkable features.
WA2000

Caliber

7.62x51mm NATO, .300 Winchester Magnum, 7.5x55mm Swiss,

Feed

6 round detachable box

Action

semi-auto gas operated

Length

35.6 in

Barrel length

25.6 in

Weight

15.3 lbs

Number made

176
The gun is built in the bullpup style, to achieve most compact package while maintaining suitably long barrels. Basic chambering was .300 Winchester Magnum, with effective range well beyond 800 meters, with optional chamberings for 7.62mm NATO (.308 win) and 7.5mm Swiss. WA-2000 is a semi-automatic rifle, gas operated, with rotating bolt. A short stroke gas piston is located below the barrel. The heavy, match-grade barrel is fluted and free-floated and is unusually located between two aluminum struts that form the chassis of the rifle and provide mounting points for wooden forend and below and telescope mount and bipod above. The stock (buttplate and cheek rest) and trigger are adjustable. Feed was from single-stack detachable box magazines. The WA-2000 sniper rifle has no open sights, and has a quick-detachable scope mount. The most common optical sight was a Schmidt & Bender 2.5-10X variable power telescope.
The WA2000 was chosen to be mainly chambered in the .300 Winchester because of its consistincy at all ranges. The entire rifle was said to be made around the long barrel. The WA2000 was said to be made in response to the Munich Massacre in which the officers could not engage the targets quick enough unfortunately resulting in all the hostages killed. The WA2000 is extremely rare, Carl Walther, the president of Walther firearms USA owns 11 WA2000's while another party owns 4. The WA2000 is around $9,000-$12,000 in the open market.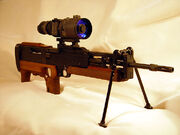 Although a WA2000 is around $12,000 in the open market, a new in box WA2000 can cost up to $75,000