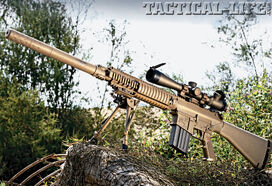 The M110 SASS (Semi-Automatic Sniper Weapons system is a semi-automatic weapons system chambered in the 7.62×51mm NATO round. It is made by KAC (Knight's Armament Company). It is to replace the M24 SWS and all the Snipers, Spotters, and Designated Marksmen who use the M24. The change has already started as of February of 2010 though. The M110 SASS was chosen as the winning design from a competition between Remington, KAC, and DPMS Panther Arms. The M110 was chosen as the winning design on September 28 of 2005. During April of 2007, US Army Units from Task Force Fury were the first to recieve the Weapon system and was rated highly noting its semi-automatic fire and quality of the frame.
The manufacturing is at KAC's location in Titusville, Florida. The M110 SASS has ambidextrous features such as left and right handed magazine releases and comes in a system that includes the Harris bipod, AN/PVS-14 night sight, the Leupoid 3.5-10× variable power daytime optic and special magazine pouches for convenience. The rifle is cosmetically similar to the MK11 mod 0 that was based loosely off of Eugene Stoner's (best known for creating the AR-15/M16 series of weapons) AR-10 that traces back to the mid-early stages of the Cold War. Unlike the MK11 mod 0, the M110 was supposed to increase commonality in parts with the standard infantryman's M4/M16 rifles and the accuracy.
Design Details
Edit
The M110 SASS is a relatively lightweight weapon of its class weighing in at 15.3 lbs. with the 20 round magazine (loaded), bipod, and scope (either kind) and comes in at a length of 1,029mm with a fully compressed buttstock and 1,181mm with a suppressor attached and a fully compressed buttstock. The barrel is 20 inches in length. The weapon is chambered in a 7.62×51mm NATO round and is gas-operated by a rotating bolt having a muzzle velocity of up to 2,571 FPS with a 175 gr. M118 cartridge. It's effective range is targeted for 1,000 meters. The M110 SASS comes with a BUIS (Back-up Iron Sight) manufactured by KAC themselves and also comes packed with a fixed buttstock that can be adjusted without tools to the user's preference. It makes use of the URX modular tactical rail system and makes use of the one 30mm scope that doesn't require two seperate scope rings.
Performannce Specifications
Edit
All this is according to MIL-PRF-32316 (AR) w/AMENDMENT 1, 5 October 2009
3.4.1.1.1 Accuracy. The distance between the mean point of impact, both unsuppressed and suppressed, shall not be greater than 1.1 inches at 100 yards.
3.4.1.1.2 Dispersion. The average mean radius (AMR) (see 6.11), of each shot group shall be not greater than to 0.68 inches at 300 feet. All targets shall be fired on using M118LR ammunition or equivalent, using five (5) round groups
Other uses
Edit
It is legal to own an M110 rifle, but not the system, for sporting uses under NRA-legal US service rifles usage.
.
This page includes information from http://www.wikipedia.org/