The
AWC G2
is a bullpup sniper rifle configuration produced in the early 1990s by two distinguished American gun designers.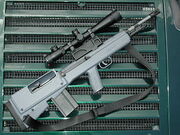 Lynn McWilliams, owner of AWC Systems Technologies selected the M14/M1A weapon platform to develop a sniper bullpup he designated the G2 Compact series. McWilliams worked closely with Gale McMillan, founder of McMillan Rifle Stock to designed and produced a bullpup stock exclusively for AWC System Technologies.
Capable of 1 MOA accuracy, the G2 was tested by a number of governmental agencies in the United States and foreign countries seeking to breathe new life into a venerable battle-proven platform, the M14. The G2 series had a number of variations, primarily surrounding barrel weights, scope mounts and AWC's suppressor capabilities and both semi-automatic and full-auto versions were eventually produced.
The last significant development of this weapon system, the G2A+ was produced and delivered for testing at the Fort Bragg sniper school. The rifle was fitted with a heavy stainless Krieger match barrel and Lynn McWilliams' final scope mount design. The scope mount and selection was of paramount importance because the raised nature of the optics, combined with the peculiar "G" load factor produced by the weapon, created a harsh environment for anything except for the strongest of optics.
Production
Edit
The AWC G2 was produced in very small quantities for both the U.S. Government and individual sales. Less than one hundred semi-automatic variants were produced in four colors (black, white, green and panzer grey) and one fully automatic variant is known to have been produced (black only).
The G2A variant differed from the G2 version, inasmuch as it sported a heavier barrel and new generation scope mount system. The final production version, the AWC G2A+ variant, seen in the photo, included both the heavy barrel and the final scope mount configuration and mounting (keyed and epoxied) system. The G2FA was a full automatic version of the G2.
Note: This article contains information directly from Wikipedia.